OTP card is an Online Transaction card used when making transactions on K-Home & K-Pro software
Note:
– Customers are fully responsible for the confidentiality of the contents printed on the grid cards.
– In case of card loss, customers must immediately contact KIS to cancel the old card and issue a new card, and change the access password to ensure security.
HOW TO USE OTP CARD
LOGIN
You can login link: https://online.kisvn.vn
Click "Sign in":
+ Step 1: Enter ID: 057C …………. (The number of your "securities trading account")
+ Step 2: Enter password: ……….
After successful login, please change your password to ensure the security of your account.
+ Step 3: Press the button "Login"
+ Step 4: The screen to confirm OTP password appears.
+ Step 5: Enter the OTP password
For example: (1) Number of OTP password: 34 => OTP password: 3438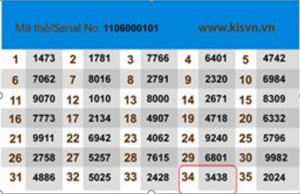 – Click "Confirm" to enter the order screen
NEW OTP CARD
In case your card is damaged/ lost/ incorrect,  you need to re-issue a new OTP card, please contact:
Option 1: Go directly to the head office or KIS branch to make changes
*** Bring original ID card
Option 2: Send mail by post: Provide a copy of ID card and request for re-issuance of OTP card.
Fee re-issue OTP card: 50.000VND
Adress to: Customer Service Department – Floor 3, 180-192 Nguyen Cong Tru Street, Nguyen Thai Binh Ward, District 1, HCMC.
Tel: (84-28) 3914 8585              Fax: (84-28) 3821 6898.